LET FREEDOM SING
- Estonia -
The winds of change move constantly over the Baltic region, bringing darkness and light in rhythmic succession. For the Estonian people, they've seen this before and have weathered the storm, relying on their most basic of traditions to steer them.
The Estonia Song and Dance Celebration is held every five years at the Grounds in Tallinn. It is a celebration of friends and family, heritage and culture, and most importantly, freedom of expression.
Honey From Your Hands
- Reflections on my Friend -
By Bill Frakes
A long, slow afternoon walk through this ancient Nordic capital. It's midsummer here, but feels like Florida in early winter. Delicious soft chill. Wonderful smells, heavenly coffee. Watching, wandering, dreaming — intermingled with concentration, consternation and construction. A day of rest and reflection. And progress. Just read a perfect poem for our next short film. Crafted with lightning speed for me by a woman I have known her entire adult life, and who I adore for her brilliance, soul, and constant struggle with conflict. It's her story, applied with subtle genius to a current event, linking what was, what became of things and where it's headed. Her words run deep and pure, chilling and exhilarating. From the moment I found a path for the work, I knew she should write it, and that her feelings would provide the backbone. She's a mother, a photographer, a traveler and a writer. English is her fourth or fifth language... and more are in line after that. I have three languages, but we really only overlap in my native tongue... I can only imagine how she sounds in hers. Someday perhaps I'll find a way to get there, it would be an absolute joy. Joining in the celebration in Tallinn, I found more of the feeling that lives in her heart. I don't profess to totally get it but the intelligence and education born not only of travel, but of the for immersion and understanding becomes clearer and clearer. Northern Europe. Another place I feel home.
- Oak Grove -
By Joey Abrait
Succulent Summer... The smell of freshly cut grass is blended with morning's dew. Soft rays of sun play hide and seek in leaves of trees. The sky is blue. The wind's from the west. Our hands intwined, our hearts are beating in unison. Lulled away by music's words, our souls are singing. Sounds from our hearts unite above us, creating winds and clouds and hope. From the deepest hollows rises my voice, escaping me, becoming a lark , rising high in the sky , singing a song to sun, singing a song to life, singing a song to my freedom or what it is to become of it… Can you hear the singing? Can you feel these hearts? And slowly a storm approaches. Cumulus clouds roll over the sky. As if drawn by our unity, squads of black birds gather above, blocking the light, suppressing the hope and changing the contours of maps. In these moments of darkness, then there is not much light, then there is not much lightness left, then the righteous lust for freedom is suppress to the ground. What we have left is our song, the melody in each and one of us. It's our shield and weapon to withstand and to go on. United we stand. Sisters… brothers… neighbors. Our songs, like birds of spring, fill the sky with hope and light. And then there is no hope left, the light is still within us. There is hope in every sad song. And there is a rebirth in every ending. From east they come, to east they shall be returning… — For now, I am rootless, I am voiceless, I am my shadow — I cut my roots to seek new shelters — a traveler, my world is wide, my maps are white, untouched. I'm open like a book to every passing stranger with wicked promises to break… As darkness comes, with hardships, with surrender, with whipping winds like cold hands on naked, bended back. We do not choose the easy roads. We stand our ground, bending in the wind, we wait out storms. From loss and sadness rises stronger feeling, to follow your path, to make your own meaning in living. I watch a silent wind play with his curly white hair. I follow his light steps on summer grass. His furrowed face that faced so many storms is facing the morning sun. Through him I've seen my country's fate - a man who has refused to kneel, refused to a surrender. It was better to be broken then empty. It is better to be bound then voiceless. From the depths of disgrace rises wisdom and visions. And hope expressed in singing. His songs are filled with longing, with dusty sunny roads and autumn rains. With hands outstretched, he faces the sky while singing sorrows of his life. So is my country, with stretched out shores, she greets me — like a long lost child, whose hands are empty and heart is filled to brim. I am coming home. She takes me in. Inviting, filled with memories, filled with silent steps and songs and an unborn, unuttered honey words: The words of glory, the song of home. Can you hear my singing? Can you feel my heart?
- About Joey -
Joey Abrait is a Lithuanian born visual artist who has been working professionally since 1992. She began her career working and traveling extensively across the old Soviet empire. She then moved on to cover daily events in the United States. Joey is now living and working in Stockholm, Sweden. Her clients have ranged from photo agencies Sygma, printed publications Newsweek, Paris Match to Verdens Gang, Helsinki Sanomat and Dagens Industri. More of her work can be viewed at joeyabrait.com
Laulupidu
The History
Through years of occupations and foreign rule, the people of Estonia relied on music to preserve their heritage. Song and dance celebrations are an important tradition for Estonians and part of their national DNA. Though the festivals have taken place regardless of foreign occupation, music has been a key part of protest over the years as well as an expression of love, unity, and a need for freedom and sovereignty. During the "Singing Revolution" in 1988, hundreds of thousands of people gathered in the Song Celebration grounds to demand Estonia's independence from the Soviet Union by singing patriotic songs. Faced with similar festivals in the neighboring Baltic States of Lithuania and Latvia, the Soviet Union responded with military intervention and celebrants were killed. However, no blood was shed in Estonia. Estonia regained its independence in 1991.
- The President of Estonia -
Toomas Hendrik Ilves, the fourth president of Estonia, was born in 1953 in Sweden to Estonian parents. He studied in America at Columbia University and at the University of Pennsylvania. President Ilves served as the Ambassador of the Republic of Estonia to the United States of America and Canada, the Minister of Foreign Affairs, chairman of the North Atlantic Institute, a member of the Estonian Parliament, and a member of the European Parliament. He was elected President of the Republic of Estonia in 2006 and re-elected for a second term in office in 2011. During his presidency, he's served as Chairman of the EU Task Force on eHealth, and promoted Estonia's IT-development since the country restored its independence.
- Taavo Virkhaus -
Taavo Virkhaus was born in 1934 in Tartu, Estonia to a musical family. His father and grandfather were conductors and music teachers. After only a year and a half in elementary school, Taavo and his family fled Russian occupation in Estonia eventually moving to Florida in the United States. He completed his Doctoral degree in music in 1967 and was offered the music director position at the University of Rochester, where he conducted the orchestra in the Estonia Jubilee Song Festival. From 1977 to 1994, he was the music director of Duluth Symphony Orchestra and a conductor of Huntsville, Minnesota and Alabama symphony orchestras. Throughout his career, Taavo has been invited numerous times to conduct at national Estonia celebrations, including the Estonian Song and Dance Celebration. At the age of 80, he conducted at this year's event.
- Sten Weidebaum -
Sten Weidebaum was born and raised in Estonia. He was a teenager when the Singing Revolution took place and was an active participant in the events leading to Estonia's independence. He is now the head of communications for the Estonian Song and Dance Celebration Foundation and author of the 2014 theme, "Puudutus/Touch."
- Kai Tanner -
As an advocate for expression through music, Kaie Tanner is an Estonian choral conductor and manager of the children's choir in the Children's Music Studio of Estonian Radio. She holds an elected seat on the European Music Council representing the European Federation of Young Choirs. To further encourage preservation of culture through song, Kaie organizes Estonia and international choral festivals.
- Roman Toi -
Born in Kõo Parish, Estonia in 1916, Roman Toi is an accomplished Estonian composer, choir conductor and organist. Over the course of his career, Roman has created nine cantatas, three symphonies and more than 80 choral pieces. His music is a national treasure for Estonians, becoming part of their standard choral repertoire. He has conducted the Estonian Male Choir and the Estonia Mixed Choir in Canada, and he has been a guest conductor at festivals world-wide. Among his many notable achievements, Roman received the Medal of Recognition from the Government of Estonia and is a member of the The Royal Conservatory faculty.
- Marju Lauristin -
Marju Lauristin's personal history and the history of Estonia are deeply intertwined. As a politician and social scientist, Marju created the first large independent political movement in Estonia during Soviet occupation. The movement's message resulted in the Singing Revolution in 1988. She has served as deputy speaker of the Estonian parliament, a member of the Parliament of Estonia and the the minister of Social Affairs of Estonia. More recently, Marju has taught as a professor of social communication at the Tartu University since 2003.
THE MUSIC & THE MOVEMENT
- Images from the Song and Dance Celebration -
- The Theme -
The theme of 2012's Song and Dance Celebration was "Touched by Time. The Time to Touch," based on the song "The Touch" by Estonian poet Kristiina Ehin. "The Touch" is about community. It is about being a part of something bigger, that impacts us all. It is about being moved by hand and by heart.
- The Touch -
By Kristiina Ehin Translated by Ilmar Lehtpere
Touch me if you will with your fiery features, make it beautiful - painfully so. Please let the blue black and white of your eyes touch me again I pray you.
Do you feel how the heaven's highest roads before us lie ever open. When we come together, when we take the time, leaving our troubles behind we can sing.
Drink a deep and thirsty draught form my life of its very loveliest moments. I will touch you with the peace and joy within me as much as you may want
Do you feel how the heavens' highest roads...
Touch me with the power of your goodness, of all thing the only treasure, bless if you will with your smooth, sleek hand my own fate rough and tattered.
Do you feel how the heavens' highest roads...
Touch me if you will with your fiery features, make it beautiful - painfully so. Please let the blue black and white of your eyes touch me again I pray you.
- About Kristiina -
By Bill Frakes
Kristiina Ehin. Hero. She moves at a different pace, in a different space. I knew she wrote like an angel. I was captivated by her work from the first moment. Then I was introduced to her. Our first meeting was in a cacophonous place during a chaotic time. She knew I needed to really hear her. So she suggested a later time, at a quiet location. If angels have a soft, sweet, clear voice then she sounds like one too. From her lips to my ears, enchanting and thoughtful. Her thoughts on humanity, interaction and peace seem almost impossibly optimistic and positive. This daughter and sister of writers sat in her family's apartment at midnight, sharing her thoughts with me, on a day that saw 1/8th of her country's population pay tribute to her words in an a live concert celebration. So generous, humble and brilliant. Another overwhelmingly wonderful experience in this fairy tale city. I am blessed.
– THE MESSAGE –
By Laura Heald
He pointed to his chest and said, "It gives me the chicken skins." He was talking about Estonia's independence in 1991 after more than 40 years of Soviet rule.
He is Rene Mitt, our friend from Estonia. He works for Nikon Nordic and invited Straw Hat to come document the Song Celebration – an event that takes place every five years to commemorate the important place music holds in the heart of Estonia. Throughout the nation's history, and under various occupations, Estonians have kept their culture and language alive through song.
When Rene referred to getting the "chicken skins," we were in his car, driving to his home in the Suurupi village outside of Tallinn. His family - led by his wife Anne-Ly who organized the event - were hosting that night's segment of the torch relay.
Every half decade a torch is carried around Estonia, stopping finally in Tallinn to kick off the Song and Dance Celebration. This year the torch was carried by bike.
"Chicken skins" are goose bumps. "Goose bumps" just doesn't translate. It's what you get when lose your breath; when the hair on your arms stands up even though you're in warm sunshine. It's that feeling you get when you're tickled by ineffable joy. For Rene, that feeling was freedom.
We arrived at his house well before the bikers were scheduled to arrive. What we didn't know until we got there, is that Rene and his family live in an historical house with a lighthouse they take care of right on the Baltic Sea. The grounds are beautiful. The view spectacular, even in the rain and fog of a typical Estonian evening.
Rene gave us a rundown of the events that were to happen. The torch was to arrive by bike, then be passed to a person where a new torch would be lit and passed, hand-by-hand, to the stage where a choir would be performing.
At 8 p.m., we were told the bikers were near. We walked out to the field – the field that was empty only hours before – that was now filled with people. Father's held daughters. Grandmother's held grandsons. Children laughed. Men danced. Women sang.
It was a neighborhood event. Everyone was there. As the torch was passed from one hand to the next, generation by generation, you could feel the pride these people felt. You could feel the pain and the joy the torch represented.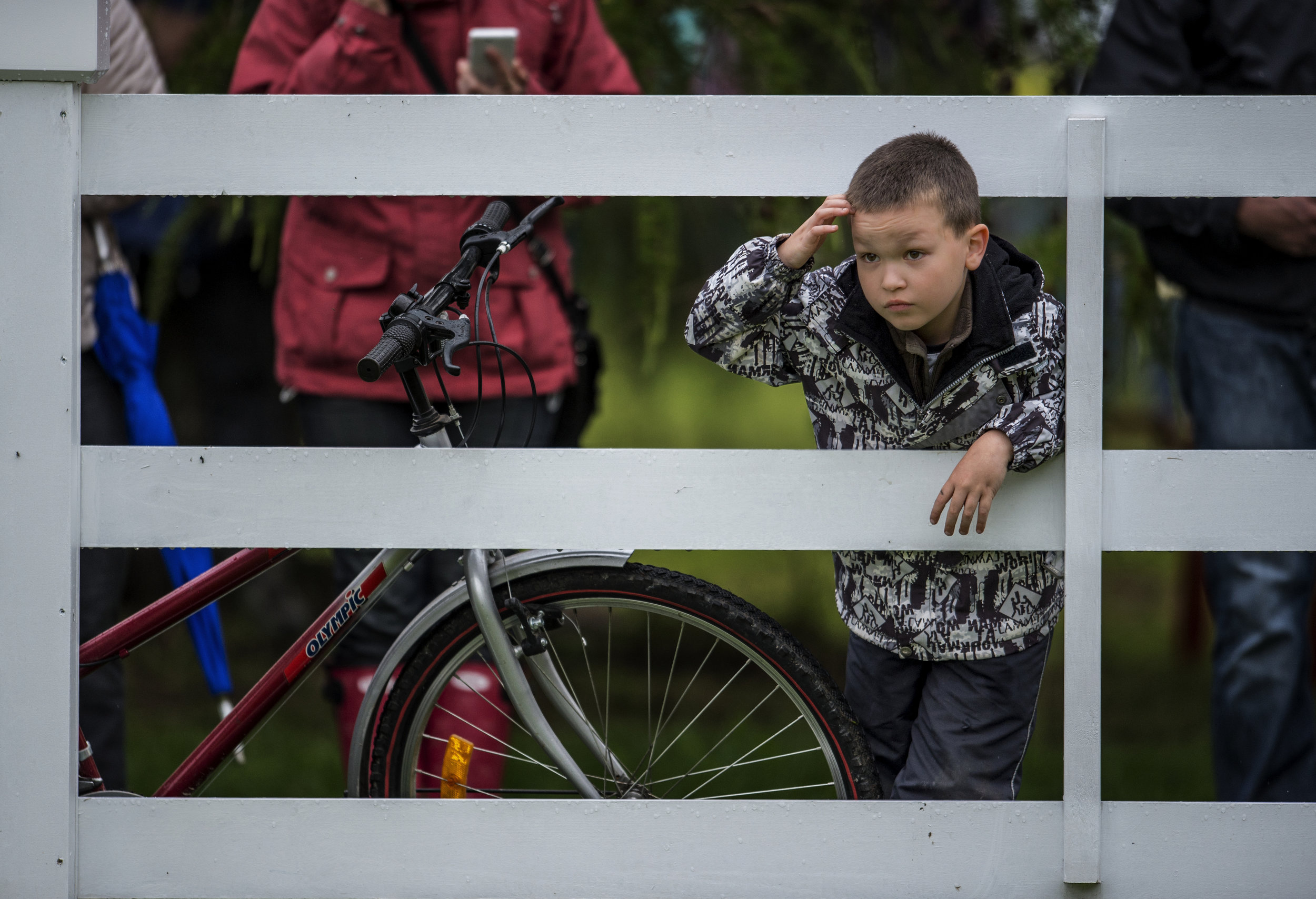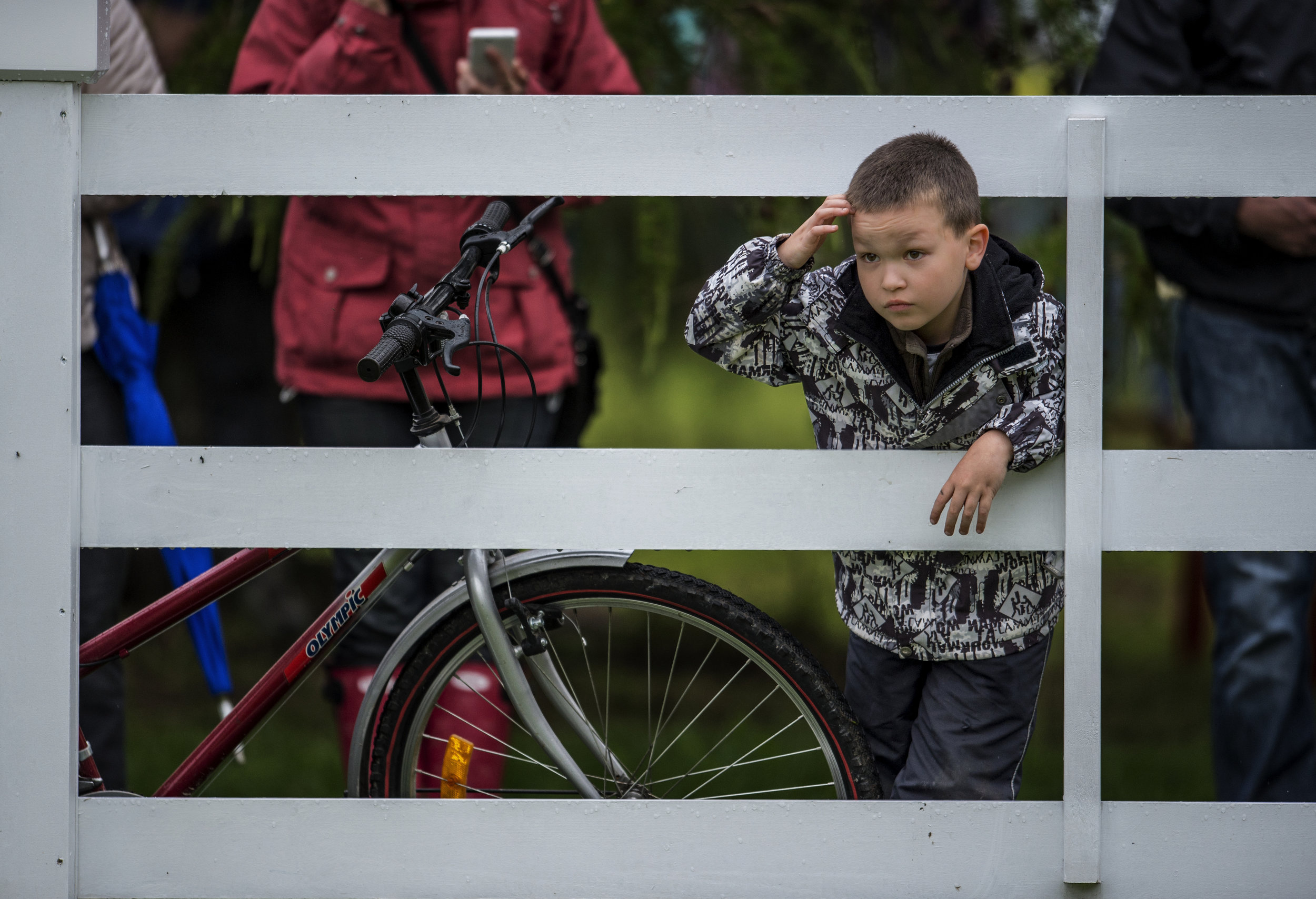 The torch moved slowly, passing from one hand to the next down a long line of Estonians. As it made its way to the stage, an a capella choir sang. The sound was so much a part of the process that it seemed as though the skies were singing.
It was amazing. I didn't understand the words, but I understood the feeling. It gave me the chicken skins.
– LOOKING FOR THE LIGHT –
By Bill Frakes
I'm an America from small town Nebraska.
I've spent my life traveling the world. Every US state. 137 countries — some of which don't even exist anymore, but that's another story.
I belong to the world now, but my roots will always be those of a German raised in the United States.
I was in Tallinn, Estonia, on July 4th — a special time for those from the USA. A day when my mother country celebrates gaining independence.
Independence can be gained many ways, in many forms.
I was in Tallinn learning again about freedom. All kinds of freedom. Personal freedom. Political freedom. Freedom of thought, and expression.
Not to put too fine a point on it, but I came in search of understanding how a truly non violent revolution could bring freedom.
I don't pretend to understand the specifics of the times Estonia has been occupied by foreign forces. I've never been forced to live in those conditions. Traveling the world constantly for more than half of my life as a photojournalist has given me an education of the human condition, and the forces that move us all. I pay attention, and I think about what I see.
Watching the torch relay arrive in the tiny town of Suurupi was an incredibly moving experience.
It was raining, misty. The Baltic waves pounding against the coast. Almost dark at a time when it should have been much brighter.
The crowd passed the fire from hand to hand, slowly. Their expressions ranged from immense pride to tender concern. Joy in the moment giving way occasionally to thoughts of what once was.
There was a small choir singing. The music cut through the thick air. The tenor and tone resonated deep into my chest.
This was the beginning of the festival week for me, and a mere glimpse of the emotion to follow.
In Tallinn, I met so many wonderful people who brought me into their lives, closely, intimately, and with transparency. Person after person approached me, offering help, explanations, and information.
A society that was forced to be closed for so long was wide open to me.
I want to salute a few of the many.
Ninety-eight-year-old Roman Toi. Slow of foot, fast of mind. A life lived fully, passionately, and generously. I am a bit more than half his age, and while I feel strong and energetic, I believe fully engaged with a very creative and intense agenda, I can only marvel at his intellect, memory, and bright eyes.
Kristiina Ehlin, 36. I've spoken with presidents and royalty, star athletes, musicians, and actors. I'm not given to being star struck, or easily intimidated. Ehlin took my breath away. Her words, and delivery, easy manner and elegant nature were simply overwhelming.
Kristel Leppik. Just 21, she has a global understanding, and a sense of self determination for her country. With her actions, be they public or private, simple or complex, I feel she and her friends will try to help steer a course of freedom, love and understanding that can help keep them, their country and ultimately the world moving to peace.
And the many? They flocked 130,000 strong to the Sound Grounds. The formal choir numbering as many as 30,000 gave voice to songs of touch. Of love. Of freedom. Of Estonia.
In Estonia, the history is powerful. They sang their way free. I came to feel, and to understand how that could have happened. The answer was so simple, it just was.
Crowd estimates had the attendance at 1/6 of the total population of the country. Imagine!
They were so respectful. Of each other. Of the grounds. Of the performers.
There wasn't an inch of free space. Shoes came off before feet touched the blankets covering the huge lawn. No trash was left behind. No drunken meandering. No harsh words. Just smiles, and kindness.
Like a dream, truly. As it should be in a celebration of freedom, and of life.